Local Kumara info
Kumara map, walks and businesses – click here to download the PDF.
Keep up to date with Kumara events and promotions: facebook.com/kumarawestcoast
Kumara is close to the attractions and sites of Hokitika and Greymouth. Only 1 hour away from Arthurs Pass and Punakaiki (Pancake Rocks). Check out www.westcoast.co.nz
Prospectors Takeaways
Phone: 027 349 9708. 91 Seddon Street, Kumara.
Good honest fresh food with a smile. Wed-Sun 11am-7pm.
www.facebook.com/prospectorsfnc
Theatre Royal Hotel
Phone: 03 736 9277. 81 Seddon Street, Kumara.
Enjoy casual, country-pub style dining with an emphasis on fresh home grown and local produce, complemented by local beers and wines.
(Winter 2020 not open for casual dining or beverages. Re opening Summer 2020.)
www.facebook.com/theatreroyalhotel
www.theatreroyalhotel.co.nz
Kumara General Store
Phone: 03 736 9717. 57 Seddon Street, Kumara.
kumara-general-store.business.site
Local Activities: Walks, biking, fishing, boating, kayaking, swimming, sunsets, beach, gold panning and so much more.
West Coast Wilderness Trail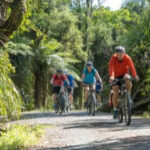 Rugged shorelines. Surging rivers. Moody lakes. Towering trees. Ancient forests. Tidal Lagoons… Get lost, find yourself, go wild.
www.facebook.com/WestCoastWildernessTrail
www.westcoastwildernesstrail.co.nz
Kumara Community Pool
Phone: 03 736 9832. Mobile: (021) 687 933. 68 Fifth Street, Kumara.
Open Summer Months only. Contact Kumara School for details.
Email: office@kumara.school.nz